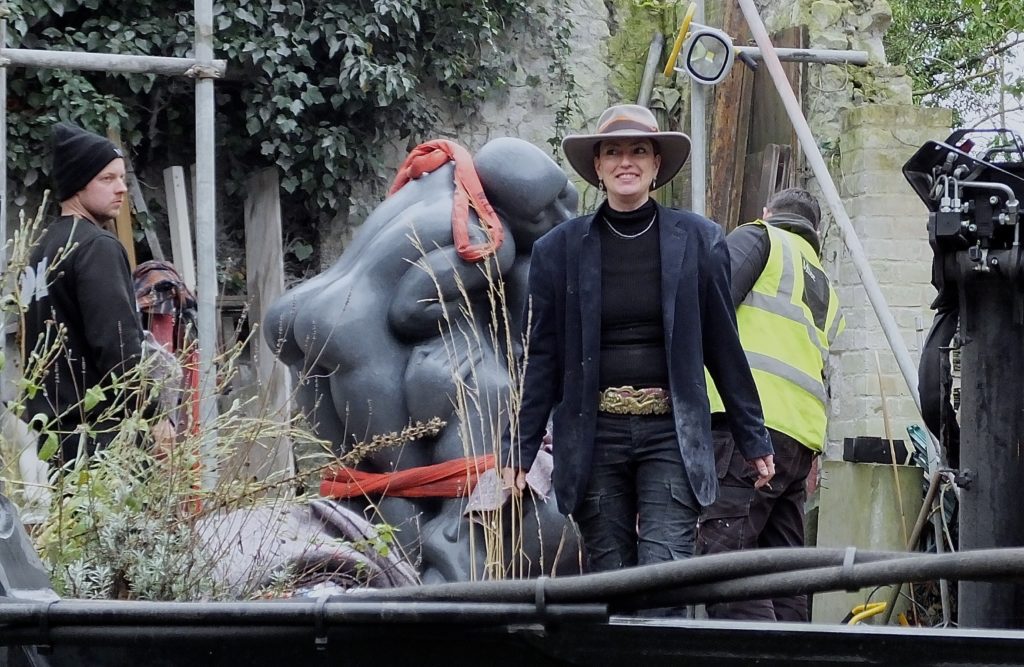 Mel on the day that Unity, commissioned by the GMB union, finally left the building…
Mel Fraser, MRSS, has been creating stunning contemporary stone sculptures from a variety of studios in and around Cambridge, UK for more than 20 years. Equally happy carving abstract or figurative pieces she uses a wide variety of stone for works for the house, garden or corporate display.
With the quite exceptional global circumstances we all find ourselves in at the moment, it is unclear when Mel's work will be able to be viewed in person during 2020. Various Art Fairs have been cancelled as has Cambridge Open Studio. As of now the redoubtable women who run on form 20 are planning a virtual exhibition through their web site where a host of Mel's newest pieces will be able to be viewed and or purchased.
Exhibitions 2019
In 2019 Mel's work was shown by the Sheridan Russell Gallery at the Fresh Art Fair in Cheltenham, 26-28 April. By Cube Gallery at the Hampstead Affordable Art Fair, 9-12 May. Mel's work was also shown at the first Sculpture exhibition at Beaulieu  Hampshire from May 25th to July 14th, at Henley Festival with Hanoi Art House 10-14th July and at the Battersea Affordable Art Fair, 17-20 October. Several of Mel's pieces were displayed at  Marks Hall Sculpture Exhibition in Coggeshall, Essex, from 20th July to the 1st September. Mel also opened her studio for the second, third and fourth weekends of July as part of Cambridge Open Studios.
More information
To find out more about more about Mel please visit The Words page and to start viewing her stunning contemporary stone sculptures go to The Work.
To plan a visit to her studio please have a look at The Studio section of the web site.
Mel Fraser's studio is 5 miles east of Cambridge and can be visited by appointment.
To discuss availability of pieces, prices, commissions or a visit to the studio, copy and paste melfraser.sculpture@gmail.com into your email programme.