Biography
Mel Fraser is a contemporary sculptor specialising in stone. She has worked from a variety of studios in and around Cambridge since the mid nineties. She is equally at home working on abstract or figurative pieces and her work has been shown at numerous art fairs around Europe and New York, The Chelsea Flower Show and at on form the UK's most prestigious sculpture exhibition devoted solely to stone.
Mel has worked in Carrara and Pietrasanta in Italy, at the quarries and stone yards in Kilkenny, Ireland and has a long collaboration with members of the Shona tribe from Zimbabwe.
Her work is held by collectors all over the world and a recent commission saw her work installed in Frank Gehry's Opus Building in Hong Kong.
In December 2015 she finished working on a larger than life-sized piece of 3 figures in Kilkenny limestone for one of the UK's largest trade unions, the GMB.
To view examples of her stunning contemporary stone sculptures please go to The Work section of this web site.
To plan a visit to her studio please have a look at The Studio section of the web site.
Mel is happy to consider commissions. To get in touch please go to the Contact page.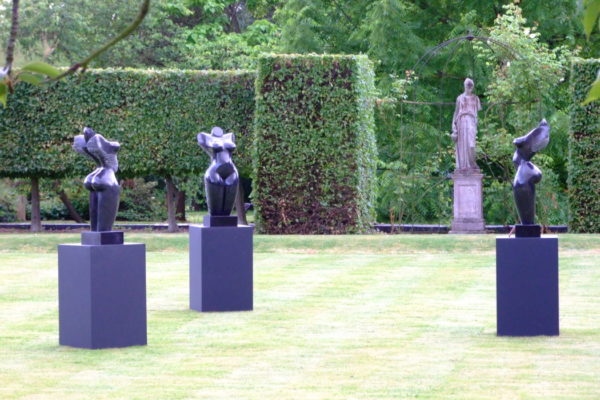 Three Graces at Doddington Hall 2012, Kilkenny limestone